Life in Tenement Dublin in the middle of the last century with a "shop" selling second hand coats.
Sweet & Food Prices in 40's / 50's.                                   
This photo shows Sean T. O'Kelly, President of Ireland, with the Mother Lepicárd, Superior General of the Daughters of Charity on a visit to their convent in North William Street, 14th May 1957, to commemorate their centenary. Also in this photograph are Mrs. O'Kelly; Monsignor O'Reilly PP of St. Agathas, the other people in the photo are unidentified.
This picture shows a celebration Mass for the centenary celebrations of the Daughters of Charity in this parish.
These pictures show some of the devestation wrought on the parish by the severe weather in December 1954.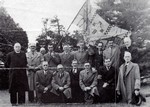 This picture shows some men from the parish on pilgrimage to Knock Shrine during the Marian Year on May 23rd. 1954.
This is a First Day Issue of a Commemorative envelope issued during the Marian Year of 1954, it is stamped and post marked.
The Confraternity of St. Agatha.